Last week saw @Rustransdark heading to Sheffield University – dodging ice, snow, and points failures on the rails – for Translating Thought/Translating Literature, a two-day international colloquium dedicated to sharing research into cross-disciplinary perspectives on text, language and culture. Scholars assembled from as far afield as Australia, China, Israel, Spain, Romania, Estonia; some came from our own snowy corners of the UK; and some, alas, were beaten altogether: Manchester airport being firmly closed for business.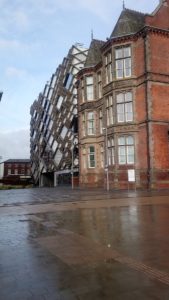 Highlights of panel one (Theory of Translation)… included Lorena Hurtado-Malillos from University of Valladoid, Spain, whose paper tackled multilingual entries in literature – instances where source text characters break into a foreign language which just so happens to be the translator's target language – and used examples of French in Jane Eyre, German in Good Morning, Midnight, and Spanish in In the Time of Butterflies. Suggested strategies included: homogenising the source text with the rest of the target text and appealing to a reader's 'suspension of linguistic disbelief'; providing an initial explanatory note in a translator's preface and adding some sort of distinction (asterisks, italics) in the body of the target text to show foreign language shifts in the original; providing a bilingual edition of the text. (Rustransdark found Lorena's paper particularly interesting as it was a reminder of letters in the Penguin archive where readers express resentment at having to suspend their linguistic disbelief!)
Bruno Poncharal from Sorbonne Nouvelle discussed the specifics of translating English-French social science texts providing clear examples from his own work and strategies for overcoming textual challenges. Katre Talviste from Tartu University presented on Estonia's pedagogical canon of translated literature, explaining how Estonia's literary field has reflected the political and cultural situation in the country during the 20th-21st centuries. Katre expressed a new pedagogical objective for Estonia: to raise awareness of translation's essential role when defining Estonia's literary canon. Marina Schirone from Bologna revealed how books are being translated into symbols under the new 'IN-BOOK' scheme in Italy. These intersemiotic translations are being used as a resource for refugees who have no local language knowledge (translations so far include Dracula, Frankenstein, Cinderella, Pinocchio).
Even though Martine Hennard Dutheil de la Rochère's (Lausanne) flight to Manchester was cancelled (snow!), she still managed to host the plenary session (hurrah for Skype!). Martine gave a fascinating paper about crime-writer Angela Carter and her lesser-known abilities as a translator (Carter was also a Japanese-language student and had a degree in Medieval English from Bristol University). Martine presented findings from her research at the Angela Carter archive, British Library, revealing that Carter used translation from French poetry as a vehicle for developing her own creative work.
Rustransdark chose History of Translation I for the first session of the afternoon. Elizaveta Vasserman (Leeds) presented 'The History of Ideas: Translation Theory by Russian Scholar Andrei Fedorov', focusing on Fedorov's principle of translatability and how this pillar of Soviet translation theory has been achieved in practice. Delegate discussion extended the concept of translatability to film subtitles, with Rustransdark also wondering how often extreme challenges to translatability might have been resolved by the tool of omission (as occasionally seen in some of the early Penguin Russian Classics texts)?
Elena Goodwin (Portsmouth) presented 'Translating Yuri Tynianov's 1928 historical novel Death of the Vazir-Mukhtar', the Soviet-era novel which recounts Griboedov's death in Persia. Elena gave us fascinating insight into the literary/historical challenges (metaphor, filmic lyricism, archaisms, colloquialisms, intertextual allusions, and rhythmic patterns) which faced the translator Susan Causey, who sadly died before she could see her book published. The novel will be released with comprehensive translator's notes this Spring – one I will look out for!
Maria Pace Aquilina (Sheffield) presented on the amazing Margaret More Roper and other sixteenth-century English female translators whose activities in translation would have been a head-on challenge to the cultural and gendered beliefs of Early Modern England. Erudite, talented women who worked under anonymising initials alone. And last, but not least, Sheffield's own Adam Piette, presented Samuel Beckett's bi-texts within the framework of the 'Terminating Spacetime of Self-Translation', analysing source and target textual interrelations which 'mirror, reaffirm, contradict, deny' each other.
The final panel was dedicated to Translation and Historical Context with Christine Baycroft (Sheffield) providing her case study of Pierre Coste's 1700 translation of Locke's Essay Concering Human Understanding into French, explaining the impact this translation has had on any historical reading of Locke's essay across Europe and in France even today. Daphna Erdinast-Vulcan (Haifa) presented 'Conrad's Mystic Writing Pad: Translation and Mistranslation of Subjectivity', in which she traced faux amis in Conrad's translations. Daphna interpreted them as being symptomatic of the 'textual unconscious', indicative of the extreme sensitivity Conrad felt about being a writer in a foreign land. Karine Zbinden (Sheffield) concluded day one with a lively presentation about French translations of Bakhtin, where she brought together two contextual strands: Petrograd in the 1920s, and Paris/Lausanne in the 1970s, when Bakhtin was first translated into French. Karine outlined the difficulties translators have faced in trying to convey the Russian word slovo in French and also pointed out the translatorial irony surrounding the Russian word ideologia, a term undefined by Bakhtin but which features on every page of the French translation!
Friday, day two, brought another round of thought-provoking and stimulating papers (and more snow!). Iulia Cosma of West University of Timisoara started the first panel – History of Translation II – with the 16th-century Italian humanist Fausto da Longiano and his determination to translate Latin and Greek into vernacular Italian. Not only that, Longiano extended his practical interest to include theorising on the vernacular too. Juliette Loesch (Lausanne) followed with her fascinating account of Oscar Wilde's determination to write Salome in French (albeit with some linguistic experimentation on his part, duly edited by three different editors), and then his displeasure at how Lord Douglas translated it into English and Aubrey Beardsley presented it intersemiotically. Loesch argued that the 'open-ended' re-workings of Wilde's Salome anticipate the 'creative turn' in Translation Studies, with its dynamics of translation, adaptation and transcreation.
The plenary session was hosted by guest speaker Didac Pujol (Barcelona) whose paper documented the (relatively late) arrival in Catalan of Romeo and Juliet. Didac focused on the serious efforts of Victor Balaguer to turn Romeo and Juliet into a tragedy Catalonia could call its own, and Josep Maria Codolosa's more bathetic attempts, later in the nineteenth-century, to fashion a Shakespearean parody, also set in the Catalan context. As you'd expect, Didac's paper was punctuated with suitably parodic mirth!
Richard Mansell (Exeter) kick-started Rustransdark's afternoon session with a long, hard look at the facts and figures of the UK market for translated literature. Books translated into English account for a disproportionately, and disappointingly, small percentage of all published literature in the UK – just 3% – but what Richard went on to do, was unpick what this figure means in reality. He highlighted what other European nations do to promote literature in translation, with more success than the UK, examined the genres which tap into global interests – the petrochemical novel, cli-fi – and applauded the work of the small, independent publishers (Charco Press, And Other Stories) in pioneering translated literature when large publishers remain risk averse.
And, on the same panel, Will Gatherer – all the way from Queensland – enlightened us about Chinese metafiction novels by authors Ma Yuan, Ge Fei, and Yu Hua, who rely heavily on the device of self-reflexivity (metalepsis). Will identified key challenges for the translator when handling this experimental genre and concluded that the novels which achieve a high level of self-reflexivity (Ma Yuan) prove narratologically complex to translate, while low-level self-reflexivity tends to point the translator towards a more complex transcultural process.
The last port of call for Rustransdark was Patrick McGuiness's (Oxford) witty paper on the poet he created so that he could then translate his own poet's works! And Patrick's not alone – others have created fake poets with the same aim in mind. Rustransdark loved the fact that Canadian poet David Solway created his own Greek fisherman-poet whom he translated so successfully that a high-society drinks reception was organised in honour of the local Greek hero-poet… Solway had to ask his Greek family dentist to dress up as said poet and stroll (silently but purposefully), in full fishing attire, through the drinks reception and out the other side, leaving before questions could be asked!
If traduttore is ever traditore, then it seems this was a truly fitting end to an excellent colloquium! Thank you @ShefLanguages