Readers, our conference finally happened! After two postponements during Covid lockdowns, we got third time lucky on 7-8th April 2022 at St Catharine's College, Cambridge, with a delegation of national and international speakers – publishers, editors, translators, literary agents, cultural ambassadors – ready to discuss the past, present, and most crucially, the future of Russian and Slavonic literary translation.
With some delegates unable to join us in person, our team spent a fortnight during March 2022 conducting recorded interviews. Speakers in the US, UK, Russia and Georgia shared thoughts, experience and wisdom about literary specializations. Ultimately, our two-day conference delivered a mix of pre-recorded talks, live discussions and keynotes, stimulating panel presentations, and vibrant follow-up debate. Inevitably, there were two shadows. The first was cast by Russia's invasion of Ukraine, which dominated everyone's thoughts. The second, Covid's legacy, which meant we were unable to throw the event wide open to the public. For those of you who couldn't come and join us in Cambridge, we have done our best to bring you the highlights here and over on our YouTube channel where you can catch some of the recorded interviews that delighted on the day.
Translation Firebird kicked off with Professor Muireann Maguire's concept of 'The Curse of the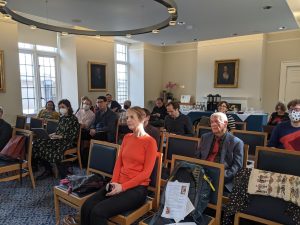 Firebird', namely, the Western tendency to orient all Russian writers by the nineteenth century, dubbing them the latest Dostoevsky or the new Tolstoy for the benefit of readers. The curse is twofold in effect: pretentious straplines intimidate as many readers as they attract (who likens The Girl with the Dragon Tattoo to Hjalmar Soderberg? Exactly), while guaranteeing that only  'serious' literature gets translated. Publishers feed prior expectation that Russian literature will prove difficult, and thus it becomes the elephant on the coffee table. More perils of being a firebird: people are scared to engage with Russian authors, especially now. How do we bring a wider range of Russian authors to a wider audience? And how do you introduce any new Russian authors when key publishers have ceased Russia-related operations for the time being for obvious reasons, before other Slavonic literatures have become widely available in translation?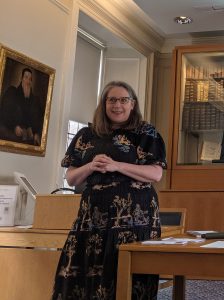 The exuberant and utterly engaging Viv Groskop gave the first keynote of the conference. As an International Booker Prize juror, she confirmed our suspicions that, out of 137 titles, sadly no Russian or Ukrainian title made it to the final Booker list this year (although a Polish title did, and one (Korean) finalist studied Russian). Furthermore, in a space of seven years when 700-800 titles appeared in translation, only *three* have been by Ukrainian authors. Two of those were by Andrei Kurkov, writing in Russian. So, there's a need to consider the role the International Booker Prize can play in deciding which books reach a world audience. Viv confirmed that cultural gatekeepers (editors, reviewers, etc.) are always operating at the level of stereotype but there is still a lot going on beneath the surface that we, as readers, can help bring out. Yes, people are worried about 'cancel culture', Russians are worried about the suppression of their heritage, the stats are reassuring: Kurkov sales are up 800%, while sales of Tolstoy are up too … 30%.
Next we had a series of pre-recorded interviews, featuring Robert Chandler, Natasha Perova and Reilly Costigan-Humes and Isaac Wheeler (the last two spoke jointly about translating Ukrainian literature). Then, the inimitable Marian Schwartz, who spoke candidly and wittily in-person about the life's work of a literary translator. In a nutshell, 'the only way to make being a literary translator work is to be busy all the time', a view shared by fellow translator Andrew Bromfield, who could not be with us in person, but kindly recorded his views on the trials and tribulations of a literary translator. Marian treated us to the milestones in her career, from Verbitskaya to Tsvetaeva and Berberova to perhaps her most important achievement of all:
'In 2014, I got the call to translate the untranslated Solzhenitsyn [The Red Wheel] … Doing Solzhenitsyn was like my career coming full circle since I started with the dissidents. So for me, it has worked out. […] Now with the war everything's changed again. There will be important things to translate from Russian – I don't know what they are yet. We're back to politics and morality.' The firebird flies again?
The publishing-bookselling industry panel followed – Eric Lane (Dedalus), Peter Kaufman (Read Russia/Russian Library), Thomas Wiedling (literary agent), and Anete Klucnike (Foyles) – with excellent presentations on the here and (right) now of selling translation rights, publishing, procuring Russian literature for sale in London, the cost of books, the difficulties of importing books amid sanctions and newly-imposed travel restrictions. We heard sage opinions: 'publishing, even literary publishing, is a fashion industry. You can always see what is in fashion' (Eric), 'publishers want the cliché – Russian but not too Russian… just let me have something that is different from French' (Thomas Wiedling), and 'Read Russia but not Russian Propaganda, Read Russia, not Putin' (Peter Kaufman).
And the grand finale to Day 1 was 2020's Read Russia Translation Prize laureate Antony Wood speaking about the achievements of his own publishing house Angel Classics. Started in 1982, Angel was the only imprint at the time solely devoted to literary translations.
Day Two began with a two-part keynote presentation on 'publishing's infinite constraints' from Will Evans, founder of Deep Vellum publishing house and advocate for Russian literature (a canon 'I've loved since I read Gorky by accident when I was 14'). In Part One: И жизнь хороша и жить хорошо Will explained, 'For the past 21 years I've been living with Putin. "What does Putin want?" Literature tells us we shouldn't be surprised at Putin's move today. It is up to us as publishers, writers, translators, to respond and illuminate.'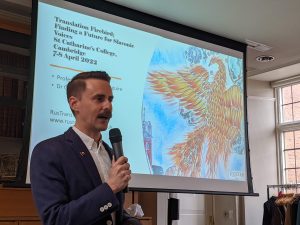 And illuminate is what Will did in Part Two of his often hilarious lecture: Все идет по плану. There are '1 million books published each year in the US; 500,000 self-published. 80-90% of the remaining 500,000 come out from the big 5, now the big 4. Mega-conglomerates. As a result of rapid consolidation in the '80s there's a lot missing'. And what's missing takes us back to the oft-cited 3 percent. As Will summarised, 'this includes all translations, including reprints. If you distill the 3% number down to only new translations: only about 500 out of 500,000  – that is a .1% problem. How we as readers discover books'. But Deep Vellum is a publisher of our time, publishing the US edition of Andrei Kurkov's Grey Bees. It is now the 'fastest-selling book in Deep Vellum's history. Kurkov has become the voice of Ukrainian writers. He's been here, he's the head of PEN Ukraine, he straddles the RUSS/UKR divide. Deep Vellum publishes a lot of Russian authors, like [Alisa] Ganieva who left because they were against the war. Ulitskaya wrote against the war and her Facebook page was shut down. […] Gorbunova was arrested at a protest for holding a sign that said нет. We are living in history'.
Following Will, we went to the world of literary translation commissions, starting with Lisa Hayden's recorded interview in which she extolled the gory virtues of her RusTrans-supported translation of Alexei Salnikov's The Department, followed by a live panel with translators Sian Valvis, Huw Davies and Sarah Vitali, all recipients of RusTrans bursaries and all candid in their accounts of pitching their new projects to publishers (a not entirely happy process).
We followed up with an entire recorded panel on the realities, practicalities and aspirations associated with translating from non-Russian languages/cultures (Dagestani, Kazakh, Uzbek) with Carol Apollonio, Shelley Fairweather-Vega, and Hamid Izmailov (which can be viewed in full here). And then it was back to hybrid presentations with a recording from Natalia Poleva, the foreign translation rights' executive at Russian publisher EKSMO, and more in-person advice from translators James Womack, Arch Tait, Bryan Karetnyk, and Max Lawton on pitching translations and working with publishers. Our penultimate panel was dedicated to translation technologies and how IT can promote and publicise literature in translation (we heard from innovators like Ruth Ahmedzai Kemp, Tina Kover, Sarah Gear and Will Evans); and the last panel went to translators Oliver Ready (contrasting the reception of accepted classics, such as Dostoevsky, vs contemporary classics like Vladimir Sharov) , Antonia Lloyd-Jones (on the mass-market appeal of Polish crime fiction) and Olivia Hellewell (on how to fund the translation of Slovenian literature).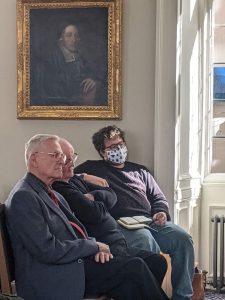 The final word came from Peter Kaufman in his poignant keynote: Publishing Russian Literature and Culture in a World Gone Mad.
With our special thanks to translator and former ALTA President Annie Fisher for transcribing the whole event!