RusTrans goes to ASEEES 2022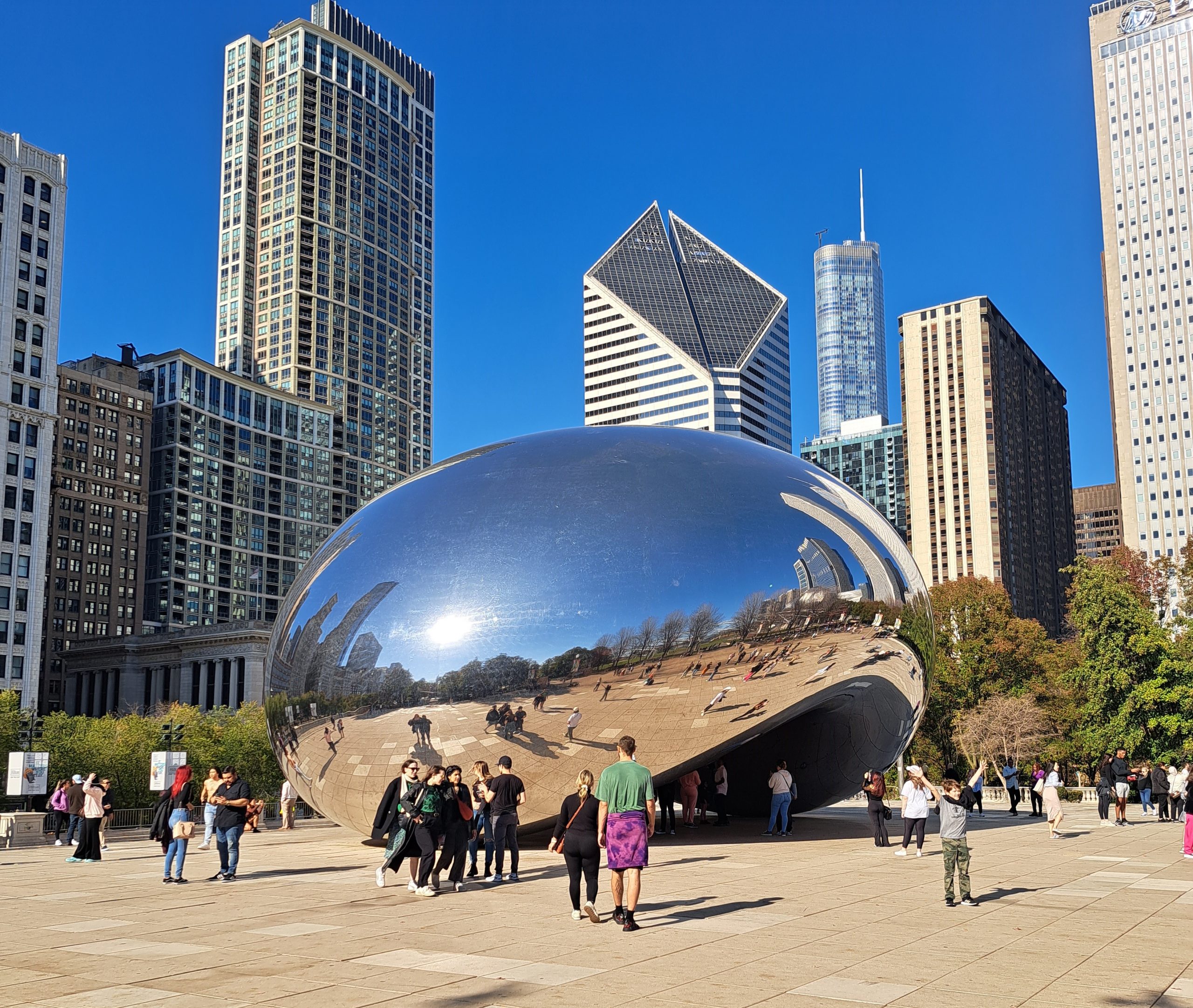 10-13 November 2022
Three years and one pandemic since RusTrans last crossed the pond to the US (see our ALTA November 2019 blog post), three of our team – PI Muireann Maguire, PDRA Cathy McAteer and PhD candidate Anna Maslenova – arrived to an unseasonably warm (23 degrees) Chicago for ASEEES 2022.  Muireann arrived hot-on-the-heels from her epic journey across Northern US consulting archives for her research on American publishers of Russian literature; Anna arrived from the British Library where she has been participating in a short-term PhD placement digitising material on indigenous Siberian peoples; and I arrived from my own digitised scans of the Olga Carlisle archives at the Hoover Institution. Having not seen our US friends and colleagues in-person in all this time, our own exuberance added to a general mood of infectious excitement in the spacious lobby of the conference venue, the historic Palmer House Hotel (legendary birthplace of the brownie, setting for scenes in The Fugitive).
Working to a theme of precarity, this year's ASEEES set out to grapple with the macro and micro concerns currently dominating the field of Slavonic and East European Studies, from the obvious consideration of Russia's war in Ukraine, to the lesser (but still relevant) concerns over job precarity in academia and the need for diversity and decolonisation. The theme could not have been more apt for present times and, not surprisingly, panels and roundtables devoted to Ukraine and Ukrainian Studies were plentiful; in evidence too, were warmly welcomed Ukrainian academics who have taken up scholarships in the US and elsewhere in Europe having been forced to leave Ukraine. In so many respects, this was their conference.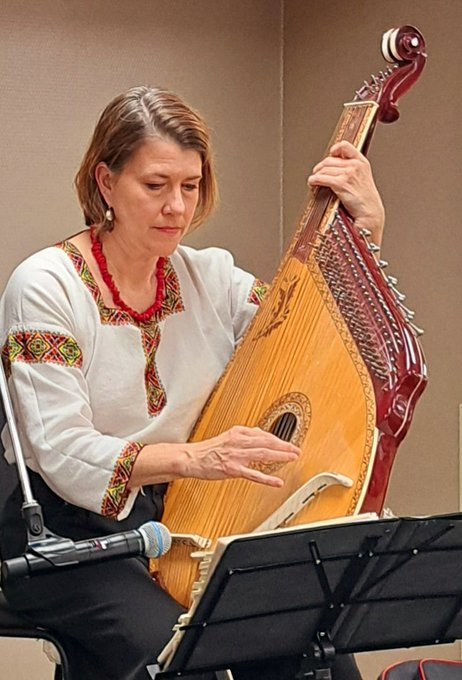 For RusTrans, ASEEES presented an opportunity for the three of us to re-engage with the Translation Studies' community, with translator-scholars whom we first met at ALTA42, such as Carol Apollonio, Ellen Elias-Bursac, Olga Bukhina, Brian James Baer, and with some of our contributors to the RusTrans edited volume Translating Russian Literature in a Global Context. An impressive range of panels and roundtables attended to themes that are at the heart of RusTrans. The opening afternoon, for example, saw 'Publishing in Precarious and Extreme Conditions: Stories from the Practitioners' (with Irina Paperno, Igor Nemirovsky, Irina Prokhorova, Katharina Raabe and Matvei Yankelevich), in which Matvei flagged his concerns that, in the same way that Cold War literature became inextricably linked with the Gulag and has struggled since to shake off this association, Ukrainian literature risks becoming similarly typecast but in a purely war setting.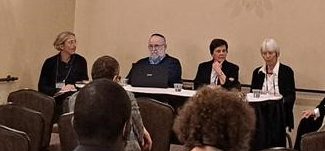 Friday saw the first of three 'Precarity of Translation' panels scheduled during the conference. This panel, the Precarity of Tradition, started with Anna's paper 'Vladimir Chertkov vs. the Maudes: Precarious Translators of Tolstoy's Religious Works in English', drawing on her thesis research.
Brian Baer (Kent State University) followed with his analysis of Merezhkovskii's Voskresshie Bogi in translation, and then University of Eastern Finland's Hannu Kemppanen presented his insightful (and impressively succinct) assessment of over a century of Soviet/Russian translation practice to present day in his paper 'Precarity or Stability?: Features of Translation Culture in the Soviet Union and Russia'.

In the panel dedicated to exploring 'Changing Dynamics of Cultural Politics During the Thaw Period', Ca' Foscari University of Venice's postdoctoral scholar Ilaria Sicari presented her archival research on 'Books as Ideological Weapons of the Cultural Cold War'. Ilaria drew on archived reports, readers' letters, statistics and official correspondence to elaborate on the political aims, methods and target reader profiles of the CIA-funded Radio Free Europe/Radio Liberty Book Distribution Programs that were conducted between 1951 and 1991.
The objective of these programs was to counter Communist propaganda by distributing specially selected works in Soviet/East European countries with softer, more penetrable, border controls (Romania, Hungary, Czechoslovakia, Poland, Bulgaria, the Baltic States). Ilaria gave a content-rich and engaging analysis of this significant era in modern Europe of translation as soft power.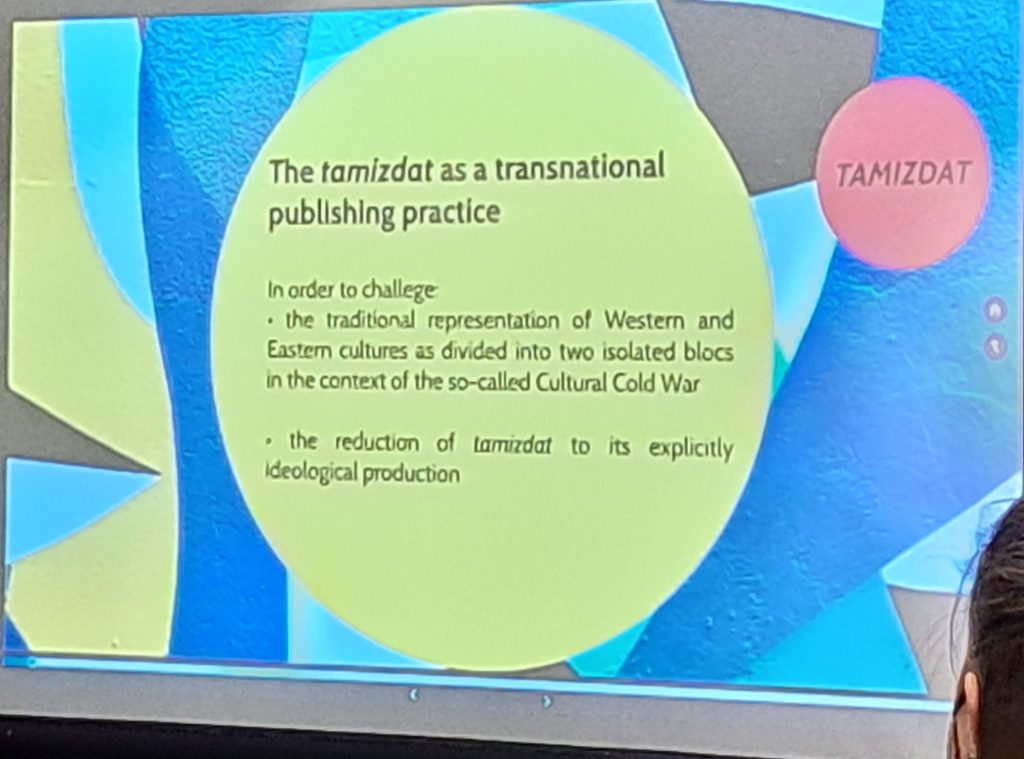 Dartmouth College's Ainsley Morse chaired a roundtable 'New Scholarship on Contemporary Russian Literature and Culture for Children and Teens', which brought together in discussion Olga Bukhina (independent scholar and translator), Kelly Herold (Grinnell College), Jenny Kaminer (UC Davis) and Andrea Lanoux (Connecticut College). Their presentations and group discussion tracked developments in the post-Soviet landscape of children's/YA literature in translation from 1991 (with reference to authors like Mariam Petrosyan, Yulia Yakovleva, Liudmila Petrushevskaya, and Narine Abgaryan whose Maniunia features among our seed-funded RusTrans commissioned translations). They introduced their edited volume Growing Out of Communism (Brill, 2021) and explored the impact of Russia's war in Ukraine on authorship and translation publishing, including small but brave anti-war literary gestures.

Friday afternoon brought Muireann's stellar panel 'Irreverent Approaches to Russian Literature: Expect the Unexpected'. Muireann's paper utilised her recent research at William Golding's Exeter-based archive – which she was inspired to visit having read Golding's Leo Tolstoy essay in the prose anthology The Hot Gates. She drew meticulous (and eye-opening) comparisons between the eponymous lives and deaths in Golding's novel Pincher Martin and Tolstoy's Death of Ivan Ilych.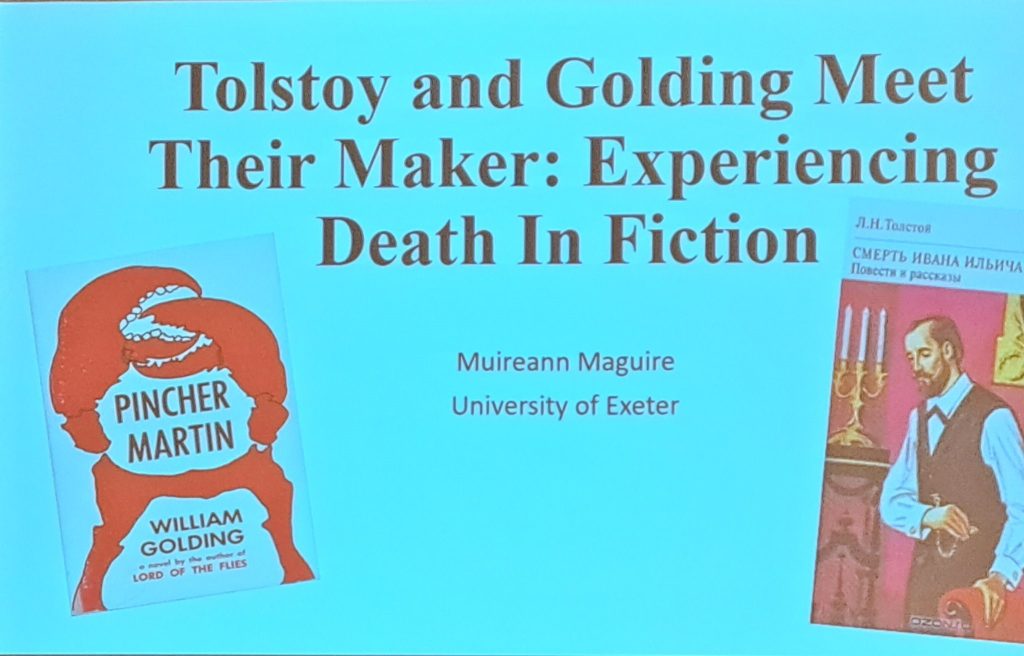 Muireann's paper joined other wittily irreverent presentations by Bryn Mawr's José Vergara (paper: 'Dostoevsky: Pop Star', accompanied by YouTube clips for Scott Helman's song 'Dostoevsky' and David Robert Mitchell's film 'It Follows'), Uni of Missouri's Tim Langen ('Steampunk Tolstoy or Android Karenina'), Uni of Indiana's Jacob Emery presenting a Nabokovian paper 'Prankster Ghost vs Teenage Ghost Tricker', with chair Thomas Seifrid (USC Dornsife) and equally droll discussanting by Eric Naiman (Berkeley)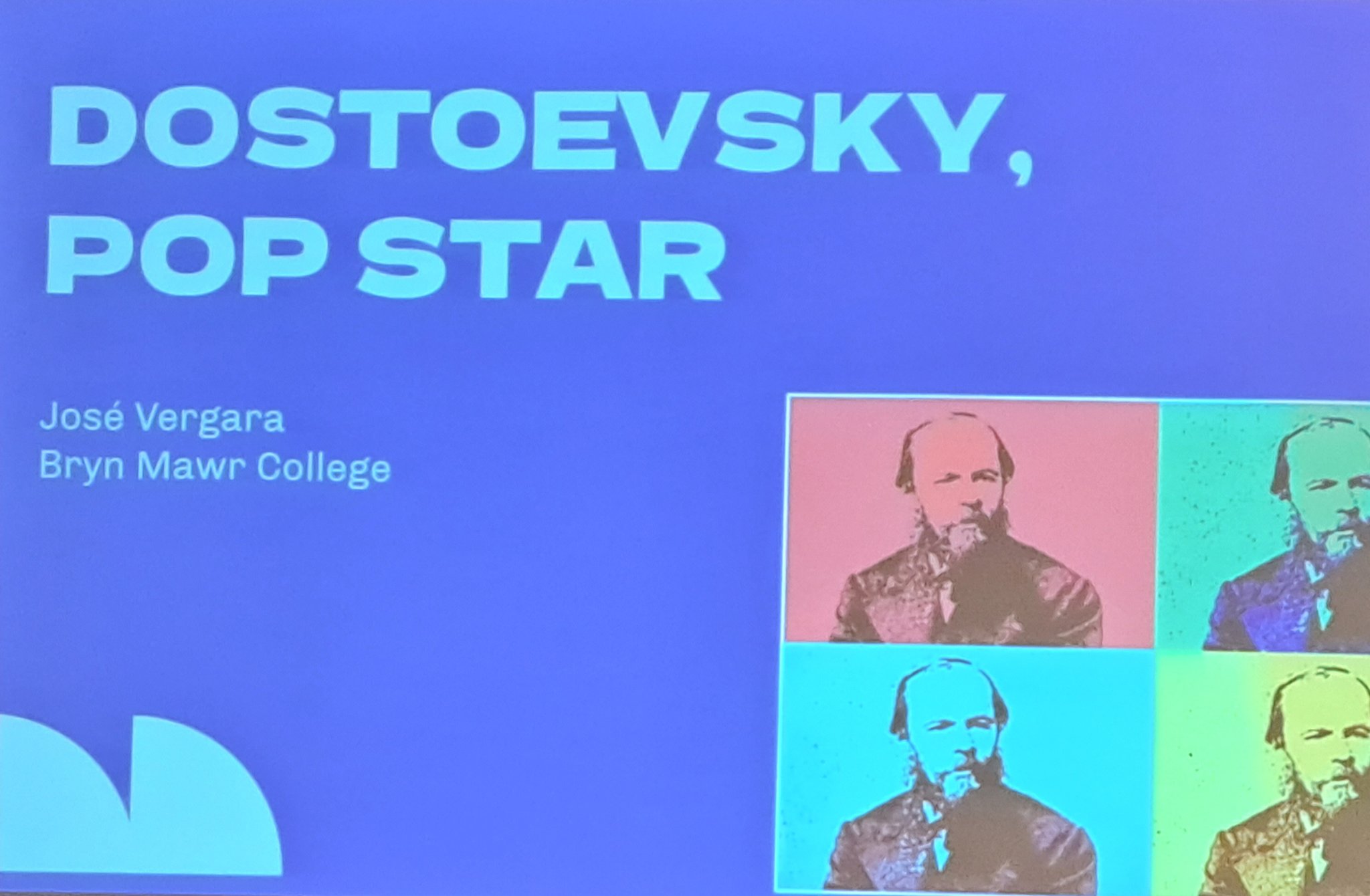 Saturday morning dawned with 'Literary Afterlives', a panel chaired by Ilya Vinitsky with Uni of Indiana's Lizi Geballe animatedly presenting  on Tolstoy's Gospel Translators, Rutger's Chloe Kitzinger drawing compelling complit parallels between Dostoevsky's The Adolescent and Zora Neale Huston's Their Eyes Were Watching God, and the inimitable Eric Naiman once again treating the audience to a Russian reimagining of Knausgaard's 'bathroom scene'. Amherst discussant Dale E. Peterson tied all the loose ends with aplomb and oversaw much audience engagement.
Saturday rounded off with our long-awaited Literary Diversity and Translation roundtable featuring from RusTrans Cathy and Anna (who organised our submission to ASEEES – thank you, Anna!), our chair Natasha Rulyova and her PhD student Mukile Kasongo (both from University of Birmingham), and Brian Baer (a busy and active ASEEES participant!). Presentations began with Brian's definition and exploration of what we mean by literary diversity and how it can manifest itself in the 21st century *if* publishers are willing. Mukile made a case for hybrid translation as a means of retaining an essential flavour of ethnicity at a text-based level. Anna coordinated her PhD research on the much maligned turn-of-the-century US translator of Chekhov and Korolenko, Marian Fell, with photos Anna has digitised as part of her British Library PhD placement on indigenous Siberian tribes. Cathy presented her latest archival research on women diversifying and decolonising literary translation during the mid- to late-twentieth century up to the present day (Olga Carlisle and Mirra Ginsburg through to Marian Schwartz, Katherine E. Young, Carol Apollonio and Lisa Hayden).
Natasha concluded with an overview of her AHRC grant application to fund literary translation into English of Russia's ethnic authors in a bid to diversify and decolonise the Russian literary canon abroad while giving voice to new writers from remotest Russia. If successful, this grant will involve in varying capacities Brian, Cathy, and several independent publishers.
Chicago, ASEEES, we had a ball – see you in Philadelphia in 2023 (fingers crossed!)