New Developments
We have just held our tremendously exciting project conference, Translation Firebird, at St Catharine's College, Cambridge (April 7th and 8th, 2022). It was a truly international symposium with delegates travelling from the US, UK, Europe, as well as several pre-recorded papers. Read all about the event, and our conversations, here.
We issued a Call for Submissions for our planned Open Access edited volume, Translating Russian Literature in the Global Context. See here for more information. We received well over 50 contributions from all over the world – demonstrating the truly global reach of Russian and Soviet cultural influence – all of which are now under review for inclusion in the planned volume.
Our Postdoctoral Fellow, Dr Cathy McAteer, has published her research monograph, Translating Great Russian Literature: The Penguin Russian Classics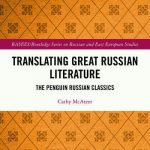 (Routledge BASEES Series, 2020). As it is fully Open Access, you can download an e-version here.
Dr Muireann Maguire, the project leader, has published some of her research on Russian literature in Irish translation in Rus (vol. 11:17, Dec 2020, pp. 6-43, downloadable Open Access), the Russian Studies journal of Sao Paolo University.
Who's reading contemporary Russian fiction today? Click here to find out how you can help our research!