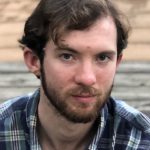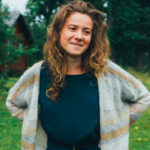 Isaac Sligh and Viktoria Malik (left), are currently co-translating Viktor Pelevin's mystery novel iPhuck10 (2017) with support from a RusTrans bursary. Below, Isaac discusses the challenges and excitement of translating the 'man of mystery' of Russian letters. You can read an extract from their translation here.
As an outsider with a vested interest in Russian culture, I first became intrigued by the writer Victor Pelevin as a cultural figure—a strange emanation of the social milieu of Russia in the 1990s. This was a time of bandit capitalism, gangsters, fast cars, loose morals, violence, hedonism. Young people voraciously digested the influx of Western pop culture and products and their secondhand replications at the hands of savvy Russian producers and businessmen. An American visiting Russia in the 1990s would, I think, have encountered a kind of hall of mirrors full of strange refractions and scrambled transmissions of familiar culture back home. As Pelevin summed it up perfectly in the opening line of his novel Generation P (1999), 'Once upon a time in Russia there really was a carefree, youthful generation that smiled in joy at the summer, the sea and the sun, and chose Pepsi.'
In many ways, Pelevin typifies that age. He is his own kind of literary gangster; he gleefully and shamelessly appropriates from any aspect of culture, high or low, Western or Eastern, on which he can get his hands, and, just like a savvy art dealer in his novel iPhuck 10 (2017), polishes it up and sells it to the highest bidder. He is particularly interesting for the Western—perhaps we should clarify 'Anglophone'—reader, who will enter that very same hall of mirrors in one of Pelevin's works. You never know what might jump out at you. I have said before that Pelevin is a heavily allusory writer: he wants to surprise, confuse, and entertain by means of inferences to an impressively wide array of cultural reference points. This is not to imply that Pelevin is a kind of collage-artist with his prose, or that he is impulsive to the point of disarray. He is a great storyteller, comfortable in both satiric and sincere modes, and as a craftsman his fascination with allusion extends into calculated experiments with form as well as content.
My wife and translation partner Viktoria comes to this project from a different perspective. She knows Pelevin not only as a writer but as a figure who has been embedded in the cultural consciousness of Russians for the better part of three decades. I often sketch Pelevin as a writer and cult figure in rough terms to Americans as a kind of Thomas Pynchon, but with the popular cachet of a Banksy, whose fame he incidentally parodies in iPhuck 10. For the last thirty years, people have struggled to piece together the facts of Pelevin's life or even whether he exists at all. Google him thoroughly and one will only find a handful of photos, mostly from the 1990s; a single VHS-ripped video tucked away in an archive at the University of Iowa; a print interview here or there. People report sightings: he's dead, he's living in Thailand, he's wandering the streets of Moscow, he's meditating in a monastery in Tibet. He has lived his life like one of his characters: one can only catch a fleeting glimpse of him just as he disappears around a corner.
Suffice it to say that this all makes for a fascinating figure to take on for a translation project. We are very lucky therefore that the task of translating such a bestselling author has fallen to us. Among his bestsellers, the novel Generation P is reported to have sold 3.5 million copies, and it inspired Viktor Ginzburg's major motion picture adaptation in 2011. Pelevin's sales figures make a strong commercial argument to any potential publisher. Over many years, his work has found a home at leading independent presses and at the major publishing houses in America and the U.K., but his last few works have languished untranslated. We feel that publishers will see in Pelevin a great opportunity for bringing a successful Russian author back to the Anglophone readership.
We are now hoping to achieve this aim by bringing one of the funniest and most incisive of his recent novels, iPhuck 10, to this audience. In my last RusTrans blogpost, 'Translating the Uncanny Valley', I wrote that the book's subject is "the strange, murky nexus we face in modern times between artificial intelligence, corporate greed, algorithms, virtual reality, and our own private and public lives"—hence that crass but clever pun in the title. Readers will find particularly arresting—quite literally—the novel's hero and narrator, a Machiavellian, suave, and witty A.I. algorithm named Porfiry Petrovich: a dandy, novelist, and gumshoe police detective who exists only in the binary ether, a 'spirit', as he calls himself.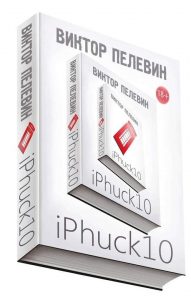 iPhuck 10 is part hard-boiled, Hammettesque detective thriller; part Orwellian dystopia; and part straight-up satire of the vagaries and pretensions of the contemporary art world and market. As we have said before, we believe that it is one of the major Russian novels of the 2010s awaiting translation. To potential publishers, please feel free to reach out; to readers and fans of Pelevin, please reach out as well with questions or comments. We look forward to bringing this remarkable book to you soon.
For inquiries about availability and rights, please email us here and we will gladly put you in contact with the relevant parties.
Read an extract from Isaac and Viktoria's translation here.